LEGO®  KidsFest 2014 In Indianapolis
11/7 – 11/9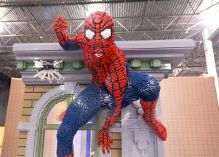 "LEGO KidsFest brings all of the creative hands-on, minds-on
 fun of LEGO building and experiences together in one activity- and
entertainment-packed family event for children of all ages and
builders of all skills and interests."
Did you know: More than 400 billion LEGO bricks have been produced since 1949! WOW! Come celebrate the world's love of LEGOs during LEGOfest 2014 at the Indianapolis Convention Center, November 7-9, 2014.
What is LEGOfest? – "The LEGO KidsFest is a giant traveling LEGO expo coming to the Indianapolis Convention Center from Nov. 7 – 9, 2014. This hands-on, educational, all-ages LEGO extravaganza features millions of LEGO bricks, not to mention lots of construction zones, dozens of life-sized LEGO models and displays, LEGO Friends, LEGO Chima, LEGO Star Wars, live LEGO Master Builders, and so much more covering three acres of space."
Just some of the LEGOfest fun:
 (activities are subject to change)
* LEGO Model Gallery: dozens of life-sized models made entirely from LEGO bricks
* LEGO Master Builders: live demonstrations and activities from the crew who get paid to play
* Race Ramps: build a custom car, then race it down the ramp against friends and family
* LEGO Chima: choose a tribe and test battling skills with the whole family
* LEGO Star Wars: build and display a Star Wars model
* Creation Nation: build your own creation to add to a custom map of the U.S.
* LEGO DUPLO: younger visitors can explore imagination through building
* LEGO Retail: purchase LEGO merchandise and official KidsFest tour goods
* Brick Pile: a gigantic pile full of LEGO bricks for creative play and enjoyment
* Monochromatic Builds: bricks of a single color to foster group creativity
* LEGO Friends: build for the five empowered friends from Heartlake City
* LEGO Mindstorms: build and program robots and snakes
* LEGO Ninjago: spin the way to being a Spinjitzu member
* LEGO City: using the imagination to create buildings and vehicles to the urban diorama
Five identical sessions are available. Tickets are $20 for kids and $22 for adults.
These events often sell out quickly. To secure your entry into LEGOfest, IN, buy tickets online today.
 One of MY followers will win (2) tickets to for the opening night session on Friday, November 7,  2014   (4-8:30pm).  I encourage you to LIKE and Follow LEGOKidsFest on Facebook, Twitter and/or Instagram for all the latest ticketing updates as this event has been selling out in prior cities.    Must be 18 to enter, 1 entry per day allowed, random drawing by USFG on Wednesday !
Winner will be randomly chosen by USFG and announced on the blog Friday October 17. Winner will also be notified via email.
Disclaimer: Parenting Beyond is not responsible for sponsors that do not fulfill their prizes. Parenting Beyond was provided tickets to LEGOfest in Indianapolis for review purposes. All opinions expressed above are those of the blogger and are not influenced by brands or products mentioned withing. This post may contain affiliate links. Thank you for clicking through them! It helps keep Parenting Beyond here for you